Preach Panic! At The Disco preach! Watch their new music video for "This Is Gospel" above.
Make sure to pre-order Panic's new album on iTunes too! 
invincibleorchid reblogged this from gch and added:

This is one of the best music videos I've seen in a long time.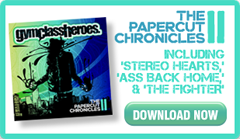 HEADPHONE HEART T-SHIRT

STEREO HEARTS BRACELET

Sign up for the Gym Class Heroes e-mail list for news, updates, tour dates and more!
By submitting my information above, I acknowledge that I have reviewed and agreed to the
Privacy Policy
and
Terms of Use
, and I agree to receive updates and marketing messages from time to time from Gym Class Heroes and their record label.