Yo Sydney we're playing at The Star Event Centre on 23 October who's coming out?! Tickets here.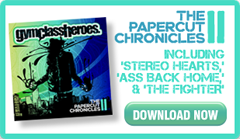 HEADPHONE HEART T-SHIRT

STEREO HEARTS BRACELET

Sign up for the Gym Class Heroes e-mail list for news, updates, tour dates and more!
By submitting my information above, I acknowledge that I have reviewed and agreed to the
Privacy Policy
and
Terms of Use
, and I agree to receive updates and marketing messages from time to time from Gym Class Heroes and their record label.