Everybody check out Travie McCoy's new video for "Rough Water (feat. Jason Mraz)" right hurr.
Download "Rough Water" on iTunes.
itsnessasworld reblogged this from gch and added:

I still adore Travie McCoy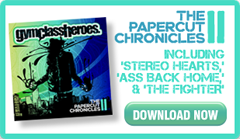 HEADPHONE HEART T-SHIRT

STEREO HEARTS BRACELET

Sign up for the Gym Class Heroes e-mail list for news, updates, tour dates and more!
By submitting my information above, I acknowledge that I have reviewed and agreed to the
Privacy Policy
and
Terms of Use
, and I agree to receive updates and marketing messages from time to time from Gym Class Heroes and their record label.